Earlier, this week I thought about the books I've read this year, and where they come from. Really, I shouldn't have looked.
39 Books read so far in 2022:
20 ARCs (from NetGalley, Edelweiss+)
10 library books
1 borrowed from a friend
8 I actually bought with real money
But how many books have I bought this year? Well, that's a really personal question and I don't feel entirely comfortable answering it. It's probably close to 100, including physical and ebooks. No, I'm not proud of myself. But I am proud of my lovely, bulging bookcases.
Needless to say, I felt very seen/attacked by this spot-on cartoon from the marvelous Ellis Rosen: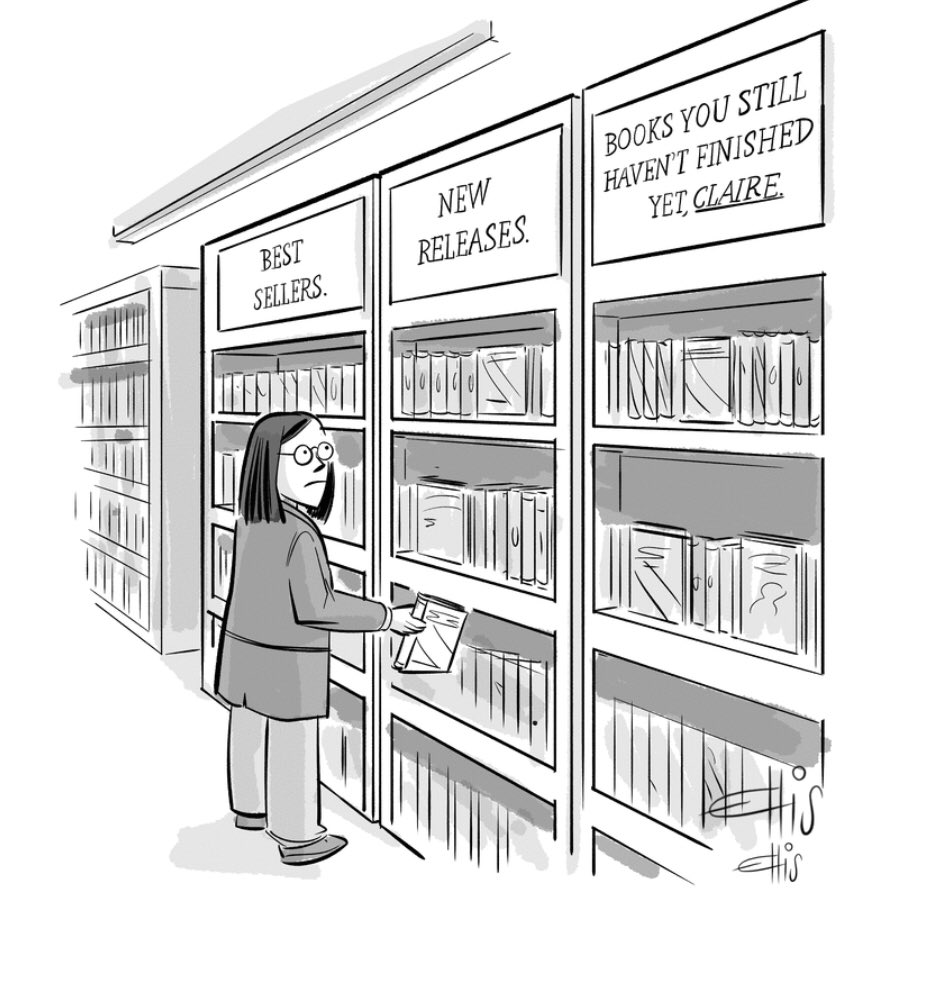 So, what's the solution here? I've considered stopping requesting ARCs for a bit, but we all know what won't happen. Could I stop buying books? No, definitely not. Case in point, I bought two Kindle books this morning before I brushed my teeth (Oranges are Not the Only Fruit, and Luckenbooth, each $1.99 on Kindle, just saying). Is this something I should probably bring up with my therapist? Possibly.
Anyway, let's focus on the positives. The Melting, by Lize Spit (great name) arrived this week (thanks Blackwell's Books), and I'm about halfway through it. It was on this Book Riot list, and an immediate purchase. Huge feelings of unease so far. I'll keep you all posted.
I am over the moon to have received a copy of What Moves the Dead by T. Kingfisher, which I will be reading as soon as I finished The Melting. Kingfisher's previous novels, The Twisted Ones and The Hollow Places, were enormously fun and incredibly disturbing, so I have very high hope for this next one.
Regular readers may remember that I absolutely adore alternate Peter Pan stories. Lost Boy: The True Story of Captain Hook, by Christina Henry, remains one of my favorite books, and I often remind my five-year-old daughter that Tinkerbell is a snitch. We're off to Disneyland next week, so I'm planning on having a few words. Anyway, my point is that A.C. Wise is following up her wonderful feminist re-telling, Wendy, Darling with Hooked, which is coming in July.
I am still reading a short story every day, or at least trying to. At the moment I'm juggling two collections; The Outcast and the Rite, a wonderful collection of creepy tales by Helen de Guerry Simpson, uncovered by the fantastic Handheld Press. And I'm being emotionally beaten up by the moving tales in God Isn't Here Today by Francine Cunningham, from Invisible Publishing. Real Sarah Pinsker vibes in that collection. And then I'm hoping to move on to She is Haunted, by Paige Clark, from the incredible Two Dollar Radio. So many awesome collections coming out right now, it's hard to keep up!
Okay, onward to the weekend! Oh, and I have some library holds to pick up, woo! Why do I do this to myself? Why?! Because I bloody love reading, that's why!